Financials
We have a responsibility to our community and our donors and work hard to ensure long-term sustainability of the organization. We make our IRS Form 990 available for review, as required by law.
---
Core Funding and Fiscal Impact Report
Each year Disability Resource Association assembles an annual report to share with consumers, donors and invested community partners. The annual report is composed of an overview of how DRA brings in revenue and how that revenue is expended for DRA consumer programming.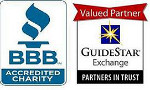 ---