Jefferson County Health and Education Committee
The Jefferson County Health and Education Committee is a partnership of local non-profits and area health and social service organizations. The committee meets throughout the year to evaluate the needs of the community and organize fundraising activities to fund the Back-to-School Fair.
We are always looking for new members and new ideas. If you would like to get involved please contact Nancy Pope at nancyp@disabilityresourceassociation.org or (636) 931-7696.
Each year the Jefferson County Education Committee hosts the Jefferson County Health and Education Fair. The fair is designed to provide free school supplies to registered low income verified children in Jefferson County School Districts. Each registered child receives a backpack, age and school approved school supplies, hearing and vision screening tests, a dental screening and referral, a haircut, healthy snacks and lunch, books, health and wellness screenings, as well as information regarding school lunch programs, insurance, and much much more. All of these services are provided at no cost to the children and families.
The 2017 fair was a success and served over 700 children, we are already working on details for 2018. Please check back for updates.
For registration information please contact DRA at (636) 931-7696 or Jefferson Franklin Community Action at (636) 789-2686.
---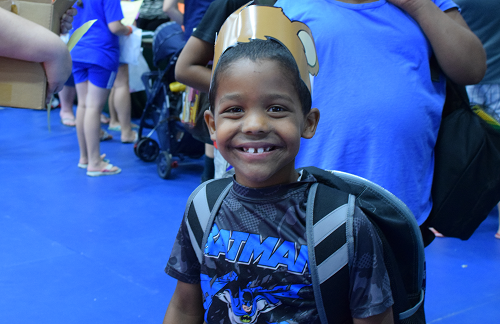 ---
Total Stats for 2018:
Back packs and school supplies, and a $20 shoe voucher were given to 646 children. (including families unable to attend the fair)
103 individuals received screenings for vision and hearing. 
50 families signed up for free vitamins from Pharmax Pharmacy
440 children received free dental screenings
12 received dental services on site 
465 children received a free breakfast from Operation Food Search.
There were 32 vendors available to give families health or education information.
Students offered free sport physicals.
---
The Jefferson County Health and Education Committee would like to say thank you to our many community partners that made it possible to distribute backpacks and school supplies.
Birthright of Hillsboro
Center for Hearing and Speech
Children's Advocacy center of East Central MO
Comtrea Inc.
Dept. of Mental Health - St. Louis Regional Office
Disability Resource Association
East Missouri Action Agency
Family Support Division/Child Support
Get Healthy DeSoto
Girl Scouts of Eastern Missouri
Good Shepherd Children and Family Services
Home State Health
Jefferson County 911 Dispatch
Jefferson County Community Partnership
Jefferson County Health Dept./Mobile Dental Clinic
Jefferson County Hunger Task Force
Jefferson County Drug Prevention Coalition
Jefferson County MO Retired Teachers Association
Jefferson Franklin Community Action Corp./Head Start
Laclede Gas Company
Mercy Hospital Jefferson
Missouri CARE
NCADA
Operation Food Search
Parents as Teachers
Rehabilitation Services for the Blind
Show Me Hope
St. Louis Crisis Nursery
University of MO Extension
Upward Smiles, Inc.
Walgreens
WIC - JFCAC
Fundraising for the fair occurs year round and we are always looking for volunteers and businesses willing to sponsor a fundraising event. Sponsorship levels and advertising options are also available for individuals and businesses willing to sponsor the fair itself. 100% of the money raised for the fair goes back into buying school supplies and any help is most appreciated.
Please call to get involved and check back often to learn more about our upcoming fundraising events.
For more information please contact Nancy at (636) 931-7696 or nancyp@disabilityresourceasssociation.org.
---
---
---
---